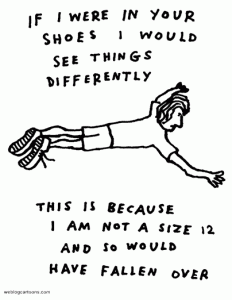 I think all of us can be a bit myopic in our world view. We all see things through our own lens and often with our ego in the way of the viewfinder. I used to think my "taking the world personally" was a youngest child thing. Just suspecting this due to some unsolicited family comments over the years that alluded to, but didn't come right out and say, I could have been a little spoiled or overindulged attention-wise as the family "baby."
That said, I think many of us think that negative encounters with others in our daily life most often have something to do with us or something we did.
For instance, I was checking into a doctor's office the other day and the woman at the desk seemed immediately exasperated at my answers to her questions. Our interaction involved much back and forth exchange of information which we all know can drive you crazy when dealing with health insurance period much less group numbers, insurer's middle name, birthdate, etc.  Well actually, the birthdate I kind of liked that she didn't hear me on that one. I think I might have whispered it.
Anyway, as I turned to leave the check-in desk, she swiveled in her chair and facing her co-worker, burst into tears.  Needless to say, I was horrified.  Was I unkind?  Was there tension in my voice? Did I slide the health card across the counter too fast? The co-worker whisked her to the backroom and I sat in my waiting room chair feeling like a terrible person, sure that I had done something to upset her.  I later found out that her husband was very ill but until then, it was all me.  All bad.
I used to do this regularly.  If the check out person at the drug store was curt, I took it as an affront.  If the waiter was impatient, I was too demanding. If a driver turned into my right of way and did that middle finger thing while honking, I somehow knew I had not seen the correct stop sign.
But slowly, call it perhaps maturity, it dawned on me that 99.9% of the time, these things people say or do have nothing to do with me. And for years of my life I thought everything had something to do with me. Ok, maybe I was a little spoiled.
Now I have a new perspective in stranger interactions. I've realized most often a short-or-rude-for-no-reason person has no problem with me, it's them.  If someone shoves my cart out of the way and cuts line in Target, it's because their kids are starving or they left their car or the dog running in the parking lot. If the lady in the post office sighs deeply and folds the stamp sample book firmly on my fingers, it's not because I am a slow decision maker but because her horrible husband beats her or they cut her hours that week. Maybe just maybe, I could have chosen songbirds more quickly. But stay with me here.
These thoughts brought back something I used to teach high school students in Communication 101. It's called The Dipper and the Bucket Theory.
Theory goes that each of us has an invisible bucket. It is constantly emptied or filled, depending on what others say or do to us. When our bucket is full, we feel great. When it's empty, we feel awful.
Likewise, we all have an invisible dipper. When we use that dipper to fill other people's buckets, by saying or doing things to make them feel better, we not only help them but also fill our own bucket. But when we use that dipper to dip from others' buckets, by saying or doing things that make them feel smaller, it's because we are feeling low.
A full bucket gives us a positive outlook and renewed energy. But an empty bucket clouds our outlook, saps our energy and allows our dipper hand to go wild in other people's buckets.
So if someone you don't know from Adam comes dipping, it most often has nothing to do with you. He or she is just running on empty and you seemed like a good place to fill up.