Monthly Archives:
January 2012
Posted on January 23, 2012
A Zen proverb loosely quoted:  Knowledge is learning something new every day.  Wisdom is knowing when to let it go.
Comments Off

on Thought for the day…
Posted on January 22, 2012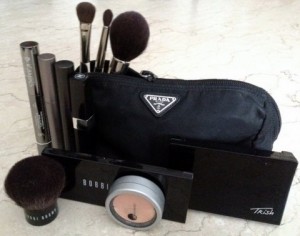 If I am nothing else, I am loyal.  Loyal to family, loyal to friends, loyal to ideas and on the simplest but not least important level, loyal to "beauty" products.  My attitude about make up is find what works for you and stick with it.  The same is true of who you buy them from. I used the honest advice of a woman named Rose at a department store in a mall near our home for over 25 years. When she retired, she passed me on to Barbara who is now my trusted advisor.
Both Rose and Barbara are about my age, and don't represent a particular line of products, both of which I think are key to getting valuable help in this department.  I am also a fan of well-known established lines.  Nothing is more frustrating than having a favorite item–lipstick, blush, nail polish–and then having the company drop it, or disappear itself.  Then you have to start over from scratch, going counter to counter, aisle to aisle, website to website, wasting time and more importantly–money– finding a similar item to fill the void in your make up bag or medicine cabinet.
Now don't get me wrong, I  don't march through make up departments with blinders on, eye on the prize, credit card safely in my wallet.  No, I can be as Snow White glazed-over as the next girl, succumbing to all the wicked witches peering over their shiny glass counters offering their gleaming red apples; promising youth and immortality. On a rainy day or when my self confidence or jaws are sagging,  I give in to the irresistible urge to stop and take a bite of the forbidden fruit. If I am lucky, I walk away with a bag of samples and on weaker days, a shopping bag.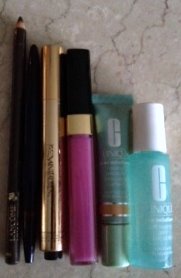 But on the days I keep my wits about me, or leave my purse locked in the trunk of my car, I have collected long term staples in my "make me beautiful" regimen and they have never let me down. Even after a two day crying jag or one glass too many with the girls,  these get me going and ready to face the world no matter how long the day or week has been.
For make up itself, I am a Trish McEvoy fan.  Have been since she opened shop.  She is the wife of a renowned dermatologist so that validates her for me. She uses less mica and frosty shimmers in her shadows which I think age you and they irritate my eyes. Her eye, cheek and bronzing colors are all soft, muted and becoming to any skin tone.  And as pictured, she has these great little portable, packable purse-sized cases that hold all your shadows, blushes, bronzers and even under eye concealer–all in one compact.  I also LOVE her brushes, especially the ones I have included here:  an all over eye fan style (#45)  for blending over the entire lid, a windshield wiper one (#29) for the crease and a big fluffy bronzing/powder brush. They are made of the softest natural fibers I have ever felt and they wash easily. Last for years.
Bobby Brown has and does very similar stuff and I like her neural, less is more attitude.  She also makes no fuss compacts that carry everything in one and I love her travel, no handle bronzing brush.
So before I drone on with all my specific make up magical solutions, I'll just give you my favorites by category:
Eyes:
Concealer–I have tried them all, in all price ranges and I love glo minerals under eye concealer.  It has two sides of color, one lighter, one darker so you can use them alone or blend as needed.  Doesn't crease or seem too thick or dry your under eye skin. Even has healing minerals, or so they say.
Regular Mascara–Hands down, best I have ever found for thickening, lengthening without irritating fibers is Eyes to Kill by Giorgio Armani.  It ain't cheap but eye doctors cost more for all the junk that is in the stuff that is. I use black.
Waterproof Mascara–Laura Mercier in black.
Knock 'em dead evening mascara—Chanel Inimitable in purple.  (Not kidding. Purple and you would never know it. Looks like soft false eyelashes. Incredible.)
Lash fortifier–I am not a Latisse fan since it can change blue eyes to brown so for a safer,more natural alternative, I like B. Kamins eyelash fortifier.  I use it on my lashes and brows at bedtime for a month or so and take a break until I start looking like Sissy Spacek and then I start up again.
Liners–I like pencil liners and use them on the inside of my lid, not across the top.  I have used Lancome's Kohl pencil liner in black coffee for ions.  Takes forever to get to the end and I like you can sharpen it as often as you want to keep it clean.  For a softer look, I love Estee Lauder's Eye Pencil Duo.  It is a soft liner on one end and a smudger on the other. Both ends are refillable so a trick I have learned since I don't smudge, is to put two different colors on each end, one lighter, one darker for day and night.
Lips–I have tried many different types of lip glosses and lipsticks but the one I could not live without and would take camping (like I would ever do that) or to the moon (as if I would do that either) is Chanel's Glossimer stick lipgloss in natural (03). I carry one in every pocket.
Wrinkle eraser/skin brightener—Yves Saint Laurent's Touch Eclat is a staple in many famous make up bags and is worth honorable mention here. This item is in a class of its own and I have used it off and on for many years.  It's a twist out creamy concealer that can be used under eyes or all over the face in any crevice you think needs lifted.
Zits— Nobody does zits better than Clinique.  Their Acne Solutions spot healing gel and clearing concealer can cure or hide anything you get.  And in a matter of minutes or at most a day or two.  Origins makes a close second to the healing gel.
So there you have it, my secrets to being a "natural" beauty.
And if you were wondering about the Prada make up bag, I bought it on the street some place for fifteen dollars.
Posted on January 20, 2012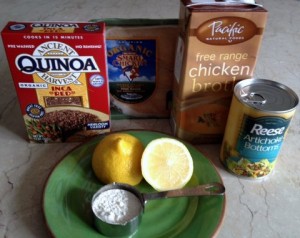 My son suggested I have a "recipe of the week" post. Since I have already posted my now famous mom's apple pie, I thought I would go for it and see how it works out.  (I tried a "quote of the week" for awhile and responses implied they were more idealistic and how I aspire to see the world, rather than how I actually view it.  Admitting I am probably more a New Yorker cartoon type than sappy idealist, I put them on hold for awhile.)
Anyway, those who know me well are probably laughing that I am posting recipes at all as though I am known for my cooking, which I am not. Granted, I am no Barefoot Contessa,  but when I am in the mood and put my mind to it, I can make a few things pretty well.
Mimi's Artichoke Chicken is one of them.  I got this recipe years ago from my friend, and very good cook, Mimi.  I have made it for so long, I feel like it is my recipe but if she is reading, I thought I should give her credit.
This recipe is extremely light, simple and easy to make. It's also healthy, tastes as good or better reheated and is low in fat and carbs. So what's not to like?
What you need:
4-5 boneless, skinless chicken breast halves (I use free-range organic.)
2 cans artichoke bottoms, drained and quartered
1 lemon, halved and seeded
1 cup dry white wine (Use a decent one.  I've heard good cooks never cook with wine they wouldn't drink.)
1/4 c. flour
salt and pepper
olive oil
First, cut  (or have the butcher cut–they will do it at no charge) the chicken in large chunks about the size of beef stew meat.
Place the chicken chunks in a shallow platter or large plate. Cover the chicken liberally with the juice of one lemon, careful to remove seeds before squeezing, and toss until well covered.
Take a gallon size Ziplock (or generic equivalent) bag and add about 1/4 cup flour and salt and pepper to your liking. Dump the lemon-coated chicken in the bag, zip it shut and do the old "shake and bake" until all pieces are well coated.  If you are short on coating, add a little more flour and S and P.  Extra flour only makes the sauce a bit thicker, and you can thin it later with extra wine or chicken broth.
Use a large (12″) lidded sauce pan and cover the bottom and sides with olive oil, probably 4-5 tablespoons.  Heat oil over medium heat until sizzling but not smoking. Stir and brown the flour-coated chicken in the oil until pieces are golden brown.
Add one cup wine and 1-2 cans drained and quartered artichoke bottoms, depending on how much you like artichokes.
Cover and simmer on low for about fifteen minutes, stirring occasionally, until the chicken is cooked through.  If the sauce seems a little thick, add a little more wine or broth.  Again, I use free range organic, salted or unsalted. (The broth not the wine.) S and P to taste.
Voila!  In spite of my detailed instructions, this whole process takes about half an hour, start to finish, once the chicken is cut.  I serve mine with white or red quinoa, my new go to pasta/rice alternative. It's a high in protein/gluten free grain and I love the flavor and texture. I cook it with chicken broth instead of water. The red is also pretty if you serve this with a green veggie. It's also great used cold in salads the next day.
This is my son's favorite "welcome home" dinner. And he always requests steamed artichokes as the vegetable. Gotta love that boy.
As my husband always says, and way too often, "They might have choked Artie but they're not gonna choke me!"
Comments Off

on Mimi's Artichoke Chicken
Posted on January 11, 2012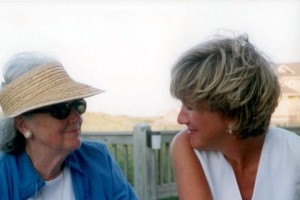 My mom has taught me, or simply genetically passed on, some rules I live by, love by and find good and true.
She taught me these things by living them–not preaching, nagging, prodding or demanding.  Not that she wasn't a master at getting her point across on many things with any or all of the latter approaches, but these things are her basics to living with and for other people that work for her and live in me.
1. Don't think about it, do it.  If you are thinking about someone, don't just buy the card, send it.  And go to the post office at midnight to get it to them while your thoughts about the other person are timely and meaningful. Even if that means dropping it in the post box at midnight, wearing a rain coat over your nightgown and driving in your slippers. She did this often and slept soundly knowing tomorrow wouldn't start with an "if only I had told/him her I was thinking of them."  In today's world this would also translate to an email, text or IM chat;  raincoat and nightgown are not as essential unless you have video chat.
2.  When in doubt, just go. Doing anything in a difficult situation is better than nothing. Mom is the best at this with death or illness.  If someone gets bad news, just go and "be."  You don't have to have the right words, a bouquet of perfect roses or arrive with clean hair and mascara. Sometimes the loneliness and isolation of life altering news just needs a hug, a shared tear or the knowledge that someone else is willing to go through the crisis with you, as far as they can go for as long as you allow them. In these moments, mom often baked and took her famous apple pie. (See post 10/26/11 for recipe.)
3.  Coming from a long line of pale-lashed women, mom is the queen of a hat and sunglasses and out the door. For those of us who are not blessed with thick black lashes and a long mane that can be tied back  in seconds to a ponytail, this idea is a lifesaver. Many days, if I waited until I felt put together enough to face the world, it would be dark before I exited the house. Like mom, my sunglasses are my best friend.  Especially if I go to the grocery store at 4:00 PM and it is dark when I lug the bags to the car, I can pretend I am a movie star rather than a lazy suburban house frau and envision paparazzi crouched behind the bushes, snapping wildly.
4.  Don't take no for an answer until you are tied to the rail road tracks and can hear the whistle.  Mom is the master of unfettered, unabashed tenacity on any subject and in any situation.  She has physically stood in front of bulldozers to stop a high school from being built in her sleepy, private neighborhood. She has written and met congressmen, mayors, church leaders and civic do-gooders to get her point, the only point, heard and often abided.  It doesn't hurt that for most of her life, and still at 88, she is beautiful (with or without the sunglasses), irresistibly charming and persuasive. But with whatever tactics, she gets it done– and often her way.
5.  Which brings me to the only time she lost a battle (but won the war) with her children which was her recent move to an "adult living situation" near my sister and brother.  After my father's death eight years ago, the house she and dad had built and lived in for sixty some years was too much for her to keep up; what with all the talking on the phone, letter writing and pie baking, even she was a little overwhelmed. Since we all lived out of state, the logical move was to have her live near us.  Logical to us, but not mom. She had enjoyed the good fortune of living within a two mile radius of her birthplace and most of her six siblings for over 85 years.  Mom met my dad in the church choir of a building her father had built and attended Sunday services there for more years than I have lived.  She had watched the same maple tree in her front yard grow from a sappling to a 25 foot fortress; saw countless snowfalls, dogwood's early blossoms, sunrises, sunsets–year after year–all from the same front porch for over six decades.
No this move, this battle, I believe was her worst. She cried, she pleaded, she denied, she ignored, she "took to her bed," even tried falling onto the fainting couch.  She pulled out all the stops but we would not budge.  And finally, on the day she was to move in to her new "home," she had no choice and seemed to be losing her signature strength.
It was my job to drive her there.  My sister had gone ahead to arrange her room to make it as welcoming and as much like her real home as possible.  Mom got into the car silently, teary behind her sunglasses and sat stoically staring out the passenger window as we drove. I understood her pain as I saw new hills rising beside us, a new river winding beside the road, a new bridge spanning the distance ahead.
When we turned into the parking lot and the car rolled to a stop, mom pulled down the visor on her side of the car. She took off her sunglasses, dabbed her eyes with a monogrammed linen hanky, applied some lipstick, replaced her glasses and flipped up the mirror. She reached in her purse and pulled out her white cotton gloves, slowly pulled them on and sat quietly as I rounded the car to open her door and help her up the ramp to the entrance.
As we stepped into the foyer where the director, social worker and a nurse stood waiting to greet her and bring her into the fold of her fellow housemates, my mother, now my hero, extended her gloved handed and in her best Elizabeth Taylor voice said, "Hello, I am Sarah Noble.  So pleased to know you. May I see my room now?"
I don't think I have ever admired or loved my mother more than in that moment. As the gliding doors slid shut behind us, she had, in her usual style, risen to an occasion that even I would have thought unbearable. She accepted her fate with grace.  And, as always, on her terms.
Posted on January 4, 2012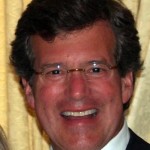 Several of you have written to ask if that handsome man in the framed picture in the last post is my husband.  And yes it is. Not only is he handsome but he is 6'4″, charming, intelligent, articulate, impeccable in social situations, has more hair than anyone deserves at "50 something," is patient, kind, a great father, a good husband and a good man.
It's a terrible burden to be married to such a person.
Now you know why I cut off half his face and left only his tanned neck and half smile in my blog's header.
Posted on January 3, 2012
Well, I  was going to make this a sad sap post about walking into my quiet, empty house after two weeks of being surrounded by family and my GRANDSON and understanding for the first time the true meaning of "the silence is deafening."  But after I wrote the title, I looked up the original quote and it is really:
If everybody thought before they spoke, the silence would be deafening.
So rather than go on, I will stop here and simply post a snapshot of what I found while straightening a framed photograph on the shelves near the toy chest I keep for my adorable, perfect, constant energy, smiles and giggles grandson. The correct quotation and title should have been:
"A picture is worth a thousand words."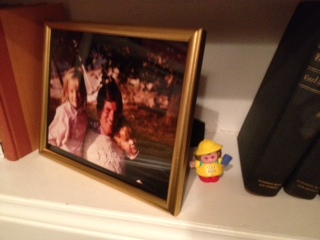 Posted on January 2, 2012
I don't know about you, but I never adjusted to 2011.  First of all, I didn't like the looks of it.  The two numeral ones side by side always seemed jolting when I wrote it on a check, saw it on a post mark or noted the date each morning in the bottom right corner of my computer. Maybe I always connected it to 9/11.  Who knows.
For me, 2011 just had no style.
Granted the year hosted some meaningful events.  Bin Laden and Gadhafi went down.  Kate and Wils gave us the best royal shindig since Di and Charles.  We lost violet-eyed Liz, the genius of Apple and against all odds by sheer will and tenacity, Gabby Giffords is still with us.  Japan had a horrific earthquake, ensuing tsunami and near catastrophic nuclear disaster. Joplin, Missouri suffered a deadly giant twister. And after 45 years of Super Bowls, the Packers beat the Steelers.  My husband was telling me yesterday, 2011 was the safest year in aviation history–worldwide.  As a tentative flyer, that's  good.
But all in all, I am glad 2011 is behind us and I am looking forward to 2012. The numbers just flow better to me.  It appears more balanced.
My resolution is to make the most of every second of it.  You have to admit, 2013 doesn't look quite as pretty.
Comments Off

on Happy 2012!