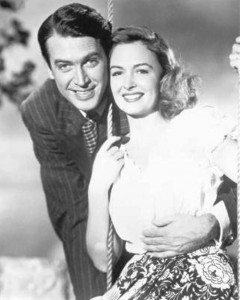 It's that time of year to dust off, haul out, DVR, On Demand, Netflix, scour HBO–however you find them–bring on your favorite "get you in the spirit" Christmas movies. I have some perennial favorites.  Some I watch over the next few weeks, at least once if not twice, and a few are sacrosanct for  Christmas Eve.
One of my Christmas not-to-miss is The Family Man.  It's Nicholas Cage at his best.  Not raging though a burning building with a handgun or jumping off a cliff to the top of a rail car but a kinder, gentler, more likable Cage. Maybe it's playing off one of my top ten favorite actresses Tea Leoni that softens his edges or his angel incarnate Don Cheadle  who I love in anything, but especially in this. The kids are adorable, Chicago born Jeremy Piven is spot on.  It's great.
Also, love The Holiday.  Cameron Diaz who can get on your nerves in other movies does not in this one.  She's worth a watch just to see her clothes.  Jude Law is Cary Grant gorgeous, complete with the thick, black glasses.  I learned after about a dozen viewings they told him to study Grant and emulate his mojo.  Even knowing that , it doesn't bother me at all. He woos me as well as Grant did in An Affair to Remember.
Which brings to to another holiday must flick.  An Affair to Remember is 1950's Hollywood subtle verbal sexual innuendo and on-set ocean backdrops at its best.  Deborah Kerr's accent and demeanour is mesmerizing. As is Cary Grant's, but his always is.
I don't know why Dyan (born Dianne) Cannon had to go and talk trash about him posthumously.  He is probably my all time favorite male actor.  I don't care what drugs he took or who he preferred beside him in bed, he thrills me. On a very base level just by walking into a room. Which he does at the end this movie with such aplomb that I am brought to tears each time.  His desperation.  His recognition at that moment is palpable. Maybe Dyan/Dianne was just jealous he didn't have a bad facelift like she did and starve himself into adolescent jeans to stay attractive, as she did.  He just had it naturally until his 80 plus deathbed.
His other Christmas favorite, The Bishop's Wife, is a classic.  Much more Christmassy and idealistic and very Hollywood of the time.  David Niven is at his perfect mustached height and Loretta Young says it all with her eyes. It's sweet. Gets you in the spirit. And you'll want to do good, at least until the next morning after watching it.
Anything with Cary Grant just makes me want to button my middle button and say things like, "Dahhling" and "We musn't." God, he slays me…
Hugh Grant, no relation to Cary, could not be more Hugh Grant than in Love Actually.  A bittersweet tangle of love tales set in England.  Still a feel good movie.
Oh, I could go on and on and we all have our favorites. Love Family Stone. Love Dianne Keaton in anything. Who can resist Will Ferrell in Elf ? Natalie Wood in Miracle on 34th Street?
But my last two, my Chrismas Eve essentials are (drum roll): White Christmas and It's a Wonderful Life.  
White Christmas was actually the first VHS movie I purchased when we bought our first VCR. It was probably mid-July and my son was about eight or ten. I loved the movie and he loved the war scenes and he can still do a pretty good harmony on "Snow, Snow, Snow," complete with train clickety clack and white napkins.  And no one can beat my sister and me on "Sisters." Blue fans waving,  I go back and forth between Rosemary Clooney's red lips or Bing Crosby's rendition with sock suspenders.  It's all good.  It's perfect .  It makes you laugh and you will for sure cry when the men rise and say, "Atten-hut!" for the General.
And nothing really needs to be said for It's a Wonderful Life other than Jimmy Stewart and Donna Reed prove over and over that it is. "Remember, George: no man is a failure who has friends."
So dig in, amp it up, stay up and watch them all.  I promise they will all inspire and none of them will do a thousandth as much for your spirit on Dec. 26th or July 4th. It's a once a year indulgence and be sure to indulge.
There is always something new in each of them I have missed before.  It wasn't until last year I realized Bert and Ernie got their names from the cab drivers in It's a Wonderful Life.
Ok, so I was changing diapers during Sesame Street and the early days of It's a Wondeful Life. Or sleep deprived or both…
But not now.  I hear Danny Kaye tapping his grey suede shoes and the conductor announcing we're comin' into Pine Tree. Gotta run!