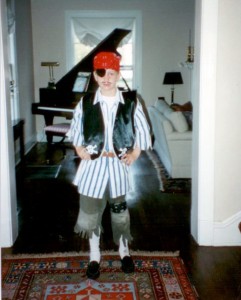 I was thinking after yesterday's post of my own little goblins, grown now and living on opposite coasts. They are good kids. The best really.  I am lucky.  I tell them that as often as I can but when they were little, I probably didn't.  I was too busy worrying about their clothes being clean, their school work, their choice of friends.  All that important" being a good mom" stuff that dominates your days as a young mother.  You are overwhelmed with the responsibility of these precious little lives and focusing too much on the speed of the cars that whiz past your house and whether they remembered their helmet when they dashed out of sight, late for school.
Oh, I hugged and kissed and loved my kids.  Sometimes kept them maybe too close for fear that if I let go, they would be sixteen instead of six.
And then they were. And eighteen and college-age and twenty two and out of the house. Gone. I have always said I am better at giving them roots than giving them wings but in spite of me, off they flew.
My son was reminding me the other day of something I did when they were little. In the rush of the morning's "eatyourbreakfastdon'tforgetyourhomeworkwaitforyoursisterkissmegoodbyelookbothways" I used to slip a note in their lunch bags.  Often it was scribbled on one of the 3×5 index cards I keep by my desk but sometimes I simply printed it in crayon on the napkin I always folded on top. If I was feeling especially prosey, on a day like today it might have said, "Boo, I love you!"  Or on short on groceries days it might have said, "Roses are red, violets are blue, pretend this bologna, is homemade beef stew."  Sometimes I would throw in a "Good luck on your test!" or "Don't forget  after school sports!"
Most often it was just a little reminder that I loved them no matter where they were or what they were doing.  I still write them "roses are red" ditties when the spirit moves me or send cards to say I love you every chance I get.
But there's something about a note in a brown paper lunch bag that says it so much better than Hallmark.