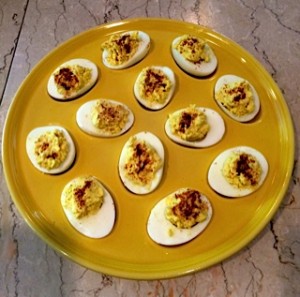 Deviled eggs, or eggs that have been boiled, cut, yellows removed and restuffed in the whites, have been served as an appetizer and even a main course as far back as ancient Roman times. In the 1700's, the name "deviled eggs" attached itself to this mode of serving eggs with "deviled" being a culinary term for chopping and adding spices. So if this historical tidbit is correct, Caesar might have been popping in some spicy eggs between those grapes right before old Brutus executed his stab in the back trick.
History aside, and really only added here for the purpose of putting a little "ask" in my "mrsmom" title, I just love deviled eggs.  They are right up there with "sheep in the meadow" for the ultimate comfort food.  (Soft boiled eggs, peeled and tossed with torn up heavily buttered toast with a generous sprinkling of salt and pepper.) The latter was my go-to antidote to most childhood illnesses, especially for a first real meal after stomach flu.
My son is especially fond of deviled eggs. At least until he graduated from high school, he called them "doubled eggs," first with the earnest innocence of a child and later with a twinkle in his eye that always makes us both smile. Gotta admit, the name makes sense.
In the south, where deviled eggs are especially popular, they have come to be called "angel" eggs by some right wing born-again Christians.  As I have always said, that born-again thing must be hard on their mothers.  I'm just fine with one round of delivering a 10 pound baby, thank you very much. And a name is a name is a name. Until I discover angel dust in my egg bowl, they will always be deviled to me.
But whatever you call them, however you serve them and whatever part of the meal they comprise, deviled eggs for me are much more than food.  They are warm, fuzzy reminders of a mother's love all bundled up in one delectably, squishy, delicious bite.
Which is why, no doubt, I often take deviled eggs to a friend who is sick or had a death in the family. My mom always took eggs, or her famous apple pie https://askmrsmom.com/?s=apple+pie, in those situations so I have carried it on to this generation. I am going to share my recipe but it is so embarrassingly simple, just remember the main ingredient–love.
Deviled Eggs
10 eggs
Hellmann's Mayonnaise
French's Yellow Mustard
Salt and Pepper
First you boil the eggs.  I use 10 eggs for 12 halves because I like to have big overstuffed eggs and the egg to yolk ratio of 1:1 is never enough for me.  And I also like to taste test as I go and wipe the yolk bowl clean with a left- over white.  Another in the kitchen with my mama memory. That is if I could pull my stool to the counter fast enough before she had polished it off all the scrapings in the bowl with her mixing fork.
I have a new boiling method that eliminates that ugly bluish/green color that can invade a hard boiled egg and makes the whites melt in your mouth soft.  No rubber.
Put eggs in cold water in a medium sized pan and bring to a boil.  Allow to boil for two minutes.  Turn off heat and cover, and allow eggs to sit in hot water for 15-20 minutes. Rinse to cold water and throw in some ice cubes to create an egg ice bath. Gently tap the larger end of the egg on side of pan to slightly crack and allow water to seep in. Makes shell removal much smoother.  Let sit for another 15-20 minutes.
Remove eggs.  Pat dry and peel. Cut lengthwise and place 12 egg white halves on a serving platter.  I am partial to Fiesta's pictured here.  Very durable and most importantly, made in West Virginia.
Put egg yellows in a small mixing bowl, including 4 extra yellows.  Save extra whites for bowl swiping.
Now the rest is to taste.  I start with about two heaping tablespoons of mayo and a healthy teaspoon of mustard and begin mixing, smashing and whipping the mixture together. I used to do all this with a fork but lately I have been using a small flat whisk and like what it does to the texture. I alternate between fork and wisk til the mixture is creamy but not too whipped.  A few small egg chunks are fine.
If it seems too dry, add more mayo. Too bland, more mustard.  But I do this slowly.  Too much of either is just that. Too much.
Add S and P to taste along the way.  When you think you have died and gone to heaven or are transported to your mama's kitchen by taste testing your mixture on one of the extra whites, take a spoon and gently dollop the yellow mixture into the white halves, careful to keep as much as you can in the hole and not smeared on the edges.  Any attempt to clean the edges later is messy and usually fruitless.
Sprinkle tops with paprika or chili powder.  I prefer to us paprika and don't sprinkle it directly but put it in my palm and pinch it on like you would salt.  Don't want to over do it.
And there you have it in an eggshell.  Or out.
And don't let anyone convince you to add olives, pickles, pickle juice, bacon or parsley.  Definitely no Miracle Whip for Hellmanns. You will regret it.