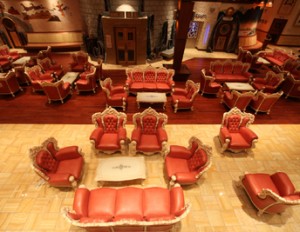 My husband and I recently spent a Friday afternoon at the King Spa and Sauna in Niles, IL.  Run by and mostly frequented by Koreans, it is a chain. There are others in LA and Houston. I heard of its healing powers years ago and then recently we both seemed to have it come up in random conversations, so we had to try it.
Choosing a Friday afternoon created an authentic orientation as the spa is a sort of Korean family enclave on the weekends.  And when I say weekends, I mean–all weekend.  Yes, people, families pay the twenty five dollar per head admission fee and stay there for hours, or days.
Here's the set up. You enter at the front desk and pay your admission fee and receive a key. Men go one direction, women another and you enter single-sex locker rooms.  Your first locker at the entrance to the locker room is for your shoes only. After those are tucked away,  you enter barefoot to the larger locker room where everyone, except a handful of Korean attendants, is naked.  Women spanning ages eight to eighty, are walking around nonchalantly in their birthday suits.  Mothers, daughters, friends, sisters of all nationalities, all walks of life–you name it– are milling around lockers, hair/makeup stations, sinks–all nude. It is amazing how quickly I felt stupid with my clothes on. Maybe took me twenty seconds to get in the groove and shove everything but my key in locker #109.
You then sign up for a treatment.  I chose the one raved about on Yelp, called the Queen Scrub.  You pad through glass doors to the "wet room" which contains four hot tubs of graduated temperatures, a sauna, a cold dip pool and open showers lining two of the walls.  Everyone is required to shower before moving toward any of the facilities and nowhere, nowhere, is there a towel except for a stack of hand towels that are now on the other side of the "wet room" doors.  More attendants "point" orders, as very little English is spoken here, and you are directed to shower and soak until your appointed treatment time.  I got a little hot and spooked, sitting toe to toe and practically cooter to cooter with naked strangers, and hopped out of the hot tubs after fifteen minutes motioning toward the scrub area, a line of plastic-covered massage tables along one wall. I was quickly hand-motion scolded and told to re-immerse but after by best Betty Boop body cover up imitation I was scuttled off to Sunny's table and told to lie face down, again on a hand towel.
This woman, dressed only in matching bra and underwear and purple Crocs, had nothing in common with her name. She must have been North Korean or had distant cousins in Nazi Germany, because from the second I lay down on her table, I was hers.  She first poured some pretty soothing buckets of warm water over me and then pulled on rubber gloves that looked to be coated in sandpaper or Brillo pads and began to scrub me down. Everywhere.
If Sunny has never skinned a cat or gutted a deer alive, I would be shocked.  I was flipped and scrubbed with her prickly paws until I was sure I would bleed out on the table. Thank God it was vinyl.
After several thorough scrubbings front and back with much flipping and turning, (I will say no more here than a friend of mine finished this part and said she may have had her first lesbian experience and had lost three skin tags) I was washed with several more buckets of warm water, patted dry-ish and given a thorough massage with baby oil. The baby oil actually brought back memories of my own babies and summers spent on the sundeck of my local public pool growing up.   The rub down was polished off with a cucumber something applied to my face and one last flip where she washed and cream rinsed my hair.
Then off the table to another mandatory shower and back through the glass doors to the locker room where I was given two hand towels and the yummiest thick pink cotton gym uniform/ hospital scrubs to wear into the unisex "hot rooms."
This was actually one big room which contained a Korean restaurant at one end and seven or so sauna mud huts scattered throughout the space.  Oh, I almost forgot the movie theater filled with lazy boy chairs playing some G-rated movie for the kids and sleeping adults.  The center of the room was dotted with giant chairs and couches where clusters of people/ couples were chatting, dozing, reading magazines, staring into space.  I found my husband, his jammie scrubs were grey, and we tested out the sauna huts whose floors were lined with bamboo mats and each had a special scent or material covering the walls–amethyst, cedar, gold, mud, salt to name a few. The medicinal values of each were posted outside their Hobbit-sized doors.
All in all, I would call my first experience at King Spa successful. I left limp-noodle relaxed, except for a few skin lacerations between my shoulder blades, and received a wonderful lesson in giving up control and expectations.
Not to mention the two layers of skin I left on Sunny's table.