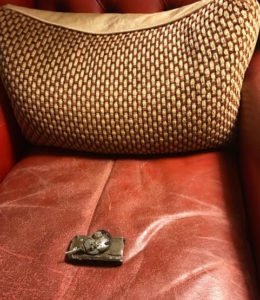 Some of you may have been wondering where I have been for months and, quite frankly, so have I.  In May, my oldest daughter and her family–three boys eight and under and her husband–moved in with us. It was a temporary thing. A couple months or so while I helped my daughter renovate her recently purchased home.
Well, if you do the math, a couple months turned into six and changing a few faucets and adding a lower level bedroom turned into a literal gut job. Inside and out.  The charm of buying an older home from a "mature" couple is that surprises lurk at every turn.  The house was a safe haven for homeless mice and their families, shower pans leaked as did the roof and the entire back of the house was six inches out of plumb.  In layman's terms, it was leaning.
So on we forged at renovation and on they stayed in every corner of my home.
Yesterday they left for the other grandparent's house.  It was the first time in six months I did not have little boys sliding down my banister, dropping legos from the upstairs landing and dripping sippy cups across my kitchen floor.  The toys were in their bins and their beds were made for the next round of babes arriving that day for Thanksgivng. I waved goodbye tearlessly at the front door wishing safe travels.
I turned and what to my wondering eyes did appear but my house. The kitchen drainer had no pint sized water bottles or stacks of medicine measuring cups (children under 10 seem to keep a cold and the cough even longer), the island was clear of homework, rubber bathtub toys and a toddler seat no longer stradled my island stool.  My foyer floor had no toppled boots and the back door was clear of coats, hats and tiny gloves with fingers inside out.
With a huge sigh of relief, I poured a glass of wine, exhaled from the bottom of my toes and fell into my favorite comfy wingback relishing something I had not enjoyed in months.
Silence.
Then, as I took a second sip, I felt something under me.  Leaning to one side, I pulled out a miniature army tank neslted in my seat cushion. Chipped and dented from it's many times across my window sills or in and out of the two-and-a-half-year-old's "pack pack" as he calls it, this tiny metal vehicle stopped me in my tracks. I could see his plump little fingers holding it as he bid farewell saying, "Bye bye, Yaya, see you soon. I love you thiiiiissss much!" I envisioned his older brothers nestled on pillows in the "way back seats" of their SUV, waving as they drove away. I thought about the oldest playing the parent by entertaining and pacifiying his brothers, as mom and dad madly packed and tucked their belongings under beds and in closets to make way for the next crew.
And like Grinch, my old cold heart grew three sizes.
Now don't get me wrong.  The past months have been difficult. For everyone.  Four grown adults and over two generations are not meant to share familial space for this long. No matter what our ancesters and neighbors in Central and South America believe.  No privacy for anyone wears on everyone. Parents and a nanny need to have their own space to juggle what has become the norm in today's world of two working parents. Marriages need space to breathe and privacy to grow and endure. Children need one set of hovering adults, not two, aiding and guiding their every move.  That's the natural order of things.  We raise our kids and if they choose, they "cleave" to another as my Methodist Bible would say, and start their own version of a family.
A place that is comfortable for them. And that place should to be under their own roof.
They are moving to their new home next week. And yes, I will miss many things about their stay here.  The joy of a two year old's giggles and screams the moment I come through the door. Good night kisses and lullabies that bring tears to my tired eyes as the years are just a blur since I sang the same to my own babies.  Spontaneous hugs from an eight year old boy.  A six year old thrilled to show me he can read. Sleepy morning eyes greeting me at dawn and the same drooping ones snuggling into bed at night. I will miss and cherish it all and have faith that my relationship with my grandsons will be stronger, longer and better for their living here.
And I hope that when I am gone and no longer a part of their daily life, these young men will pass a car like mine or take a bite of homemade meatloaf and pause for a second. Perhaps an image will appear and they will remember how much I adore them.  Every single inch.
But it is time now for them to move on. To their own rooms. And the life they need to live with their own parents.  Together as one unit. Their rhythms. Their views out their new windows.
I will be here in my empty, quiet, tidy house. Just as it should be.
Five minutes away.