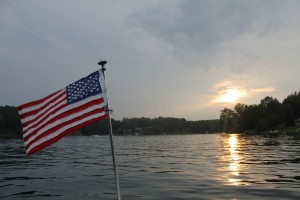 About five o'clock at the lake house, we prepare for a "cocktail cruise" which entails a flurry of plastic cups and drink grabbing, a run down the hill to the pontoon boat, a blur of life jacket throwing on, hook up for favorite cruise playlists, the blessed sound of reverse, then out onto the water to ride around in slow circles or drop anchor and watch the sun set behind the black shadows of the mountains.
It's a tough life at the lake but someone's gotta do it.
But on the evenings that the hope for a beautiful sunset is especially inviting and the late afternoon sun is dancing like diamonds on the water, we plan ahead.  Some of us shower and gussy up, some wipe off the seats of the boat from the day's outings but the most important contributors, prepare a poo-poo platter of hors d'oeuvres to take on the boat with our cocktails.
Now just to be clear, a poo-poo platter is actually a pu-pu patter, introduced to me by my very plan ahead and organized houseguest friend who arrived for a weekend stay with three bags of pu-pu platter fixings and five gallons of craft beer growlers for her and her husband's three-day stay.  She had mentioned the pu-pu platters when we spoke about the weekend's plans the week before and I was all for them, in spite of my interpretation of the name as poo-poo. Anything in a kitchen that involves work beyond scrambled eggs or sticking something in a vase in the middle of the table, I am a fan of others doing the preparation.
When she started the first evening's poo-poo platter by cutting up carrots, celery and broccoli for dipping, I immediately understood the poo-poo part of the platter's name.  Roughage.
I mentioned this to her and with her signature giggle, she explained it is pu-pu, an American Chinese or Hawaiian hors d'oeuvre tray of a little bit of this and a little bit of that.  Theirs are traditionally miniature egg rolls, chicken wings, cured meats, mini-meatballs, fish, etc. So on we forged for three days of her version of pu-pu platters, each with a different ethnic theme–Mexican, Middle Eastern, American. And on we went with our altered version of their name, digressing from pu-pu to poo-poo to simply poopy platters.  I know, very sophomoric but lake air does that to you.
Especially at 3,200 feet.
So the next weekend, my oldest friend in the world who is of Lebanese/Syrian descent arrived and announced that her "poopy" platter would include homemade hummus, olives and some delicious crispy bread things from the old country that are perfect for dipping in or spreading with the hummus.  Now if you are a Samba, Three Tribes or Oasis fan for hummus, once you taste the homemade recipe that follows, you will never buy store-bought again. Handed down through three generations of my friend's family, this recipe is the real deal. Originally made by her grandmother who spoke heavily-accented English and made her pita bread fresh on the open flame of her kitchen gas stove, how could her hummus be anything but authentic–and delicious? Sitte, as she was affectionately called by her American grandchildren–a derivative of the Lebanese name for grandmother–served hers with open arms and a warm smile. You can serve it however you like, just don't forget the olive oil.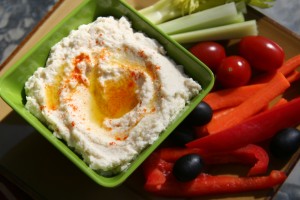 Ingredients:
one can garbanzo beans/chickpeas–I use organic
one lemon
one (or more) cloves garlic
2 tbsp. tahini (I prefer Krinos brand–no oily mixing before use)
extra virgin olive oil and/or water
sea salt and pepper to taste
First of all, this is a very "to taste" recipe. Garlic lovers will like two cloves, I prefer one. I think a few big pinches of sea salt is perfect but my husband likes at least a half teaspoon, if not more…Ina Garten's instructions for hummus in general, not this old family recipe, is to dump it all in and mix.  But I have found a few general tips for mixing helpful…
Drain chickpeas. Put one clove garlic (Sitti used lots more) in a small Cuisinart-style chopper. Chop for a few spins to mince. Add chickpeas, the juice of one lemon and 1 to 2 tsp. olive oil or water.  Chop and grind mixture until smoothish. Add tahini and keep the chop/grind going. Keep adding water or olive oil to get it to the texture you like. I prefer mine with some chunks because I think it tastes better but also I don't have the patience to get it completely smooth. Salt and pepper should be added all along the way.  It takes more salt than you think and I use very little pepper. Sitte used to poke a fork in a fresh lemon half and squeeze it by twisting the lemon around the fork, picking out lemon seeds as she went.  If you can do that and rub your stomach and pat your head at the same time, go for it. I do mine in a manual juicer.
Serve at room temperature, or cooled, with warm toasted pita or veggies or any dipping think you like. Drizzle with olive oil and chopped parsley to garnish. Other popular garnishes include sprinkled ground cumin or sumac. Not the poison one, of course.
And if anyone poo-poos this recipe, they haven't tried it.