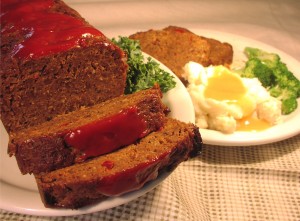 My son-in-law did me the honor of tweeting about the delicious "1970's" meatloaf  I dropped off at his kitchen door yesterday around dinner time. Since he is thirty years younger than I, 1970 would seem like antiquity to him and  a pretty "old fashioned" food.
I, on the other hand, think of meatloaf as a 1950's dinner staple. It certainly was in my house growing up. Similar to other recipes I have posted, my recipe is a family one I have used for years and copied from my sister. It is by far the best meatloaf you will ever taste.
But after the "tweet", I started wondering just how far back meatloaf goes as a dinner table food. I sort of put it in the southern weekday dinner category or roadside diner menu stuff.  I guess what I am saying, I don't think of meatloaf as a sophisticated food but a warm and fuzzy, Leave it to Beaver kind of dinner meat.
Comfort food.
So I decided to do a little askmrsmom.com research on this country cook delicacy and I was a bit surprised.  Fact is, meatloaf has European origins and dates back to Roman cookery as early as the 5th Century. It is a traditional German and Belgian dish and a not-so-distant cousin to the Dutch meatball. It appeared on American tables as early as Colonial times but did not show up in cookbooks until the 19th Century.
So there you have it, more than you will ever need to know or care about the history of meatloaf.  So on to the good stuff. Perfecting the art of meatloaf.
Having made it since I was first married, I have learned some tricks of the trade. First, since it is a loaf, it involves some kneading and squishing not unlike mixing dough for a loaf of bread.  Until recently, I always did this with my bare hands (freshly washed, of course), something I sort of dreaded. I'm not sure there is anyone who relishes working with raw ground meat but the result is such a crowd pleaser,  I always forged ahead. Until recently when said son-in-law's nanny commented, as I was whipping up a couple loaves for dinner,  that she always uses thin rubber gloves.
Duh.
So now I keep thin rubber surgical gloves on hand, pun intended, and they work perfectly. Some folks use pork or lamb mixed with beef for their meatloaf and you can often find that mixture in meat departments by the pound ready to go.  I am a purist and only use beef, in fact, I use grass fed these days for my organic kids. Recently discovered an organic grocery delivery service https://chicago.doortodoororganics.com/shop-good-food that arrives fresh on your doorstep for no extra charge. Not just local but in larger cities across the country. But that is the subject of another post.
So without further ado:
Kay's Best Meatloaf Recipe
Preheat oven to 350 degrees
Ingredients:
2 1/3 lbs. ground sirloin, round or  chuck
2 eggs
1 c. quick Quaker oats
1 pkg. Lipton or Knorr dried onion soup mix
1 1/4 c. whole Carnation Milk (Sorry, not hip or chic.  In a red and white can near baking goods.)
3/4 c. catsup
Fresh pepper
BBQ sauce, Kay's personal favorites are Masterpeice or K.C. Original
In a medium-sized mixing bowl (I use stainless) whip eggs with a fork unitl smooth and then combine with all other indredients except BBQ sauce.  Add meat and mix well using bare or glove-covered hands. Split mixture in half and shape into two loaves.  Can put in two separate glass or metal loaf pans or side by side in a 9×13 baking pan. (I rub either with oil or butter to make for easier clean up.)
Top each loaf with BBQ sauce, spread evenly over loaf.  Catsup will do if you don't have any.
Bake for 1 hour at 350 degrees.  Remove and let cool a bit.  Tastes better warm than hot and is great leftover next day on a sandwich, slathered with mayo and my brother adds left-over baked beans.
I know, so un-PC, but so much better than quinoa and kale.