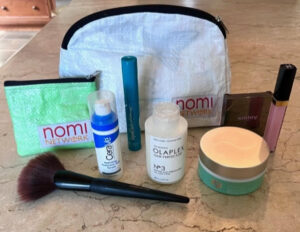 A friend of mine recently asked while we were walking, "What is your daily  routine?"  I paused and said, "As in self-care or what jammies do I sleep in?"  She laughed and said, "Any of it. I am pretty bad at it all."
I pondered her question and realized not everyone has a specific routine or are not as particular as I am about the products they use or even know if they prefer sleeping in crisp cotton vs. an old t-shirt.
I have thought about this since we worked our way to our three mile mark and 7,000 steps.  And I realized there are items I am devoted to and have used for years with only a few new additions.  Even if I was served 500 Instagram ads to switch or abandon them, I would not.
So look out Oprah, you are not the only one who can have "favorite things."  I am here to contest that.
1.Vanicream Gentle Facial Cleanser: I have used this for years, morning and night.  Super gentle and great for skin that tends to be red or sensitive. Purchase at Target, any drugstore or on the addictive monster Amazon. Less than $10.
https://www.walgreens.com/store/c/vanicream-gentle-facial-cleanser-for-sensitive-skin/ID=prod6238095-product
2. CeraVe Hyaluronic Serum: Hyaluronic acid is the buzz word in every brand of moisturizers these days. It is really not acidic at all but a naturally occurring moisture locking source in everyone's skin. I have tried all the expensive brands and this super hydrating serum is by far the best. Often on the top five lists from dermatologists. A light gel cream that doesn't clog pores or irritate even the most sensitive skins. Use alone or with a heavier moisturizer. Also at Amazon, Target, Ulta or drugstores. $20.
https://www.ulta.com/p/hydrating-hyaluronic-acid-serum-pimprod2002096
3. Thrive Lash Extensions Mascara: As a thin lashed blonde, I have used every mascara known to woman–waterproof, smudge proof, fillers, no fillers. This one hands down is the best by far.  Not only does it thicken and lengthen your lashes even with one coat,  it encourages growth without all the icky chemicals and hormones. And it washes off with soap and water. Added bonus, a portion of proceeds are give to women's organizations to help women thrive.  A win/win! $24
https://thrivecausemetics.com/products/liquid-lash-extensions-mascara
4. Patchology Flashpatch Rejuvenating Eye Gels:  I have discovered in my over-sixty facial routine, that most eye creams are targeting wrinkles rather than puffiness.  Having the latter as my bigger problem, I realized that wrinkle reducers puff the skin to erase the lines.  So after wasting my money on too many miracle eye creams that gave me puffy eyes, I have landed on these nifty little gel patches that I apply in the morning while I am making tea.  Work like a charm to reduce the overnight puff and moisturize skin.  Also good to perk up eyes before a big night out. Available at Nordstrom, Amazon, Ulta. $35
https://www.ulta.com/p/flashpatch-rejuvenating-eye-gels-xlsImpprod12791007
5. Sisley Stylo Lumiere : This hydrating undereye concealing cream comes in a pen-like wand and is super easy to apply. It covers the puff or wrinkles while brightening eyes. Can be used as a highlighter on other parts of the face if you are a Hollywood type that makes your face "set ready" before you leave the house.  For minimal makeup, I use this under eyes, mascara, lip gloss and a little bronzer. One of my favorite items. Comes in colors. Use #2 if you have pink in your skin and #1 if you have yellow. At most department stores. I get mine at Nordstrom. $75
https://www.nordstrom.com/s/sisley-paris-stylo-lumire-highlighter-pen/5037951
6. Sisley Blur Expert : My other Sisley indulgence is this powder. One color for all skin. It is a silky smooth light powder that literally blurs redness, dark spots, freckles and even a blemish or two into one smooth, even skin texture.  I am not a foundation  person, so this is it for my face, with or without a little bronzer. Invisible on skin and so are the imperfections! $105
https://www.nordstrom.com/sr?origin=keywordsearch&keyword=sisley%20Blur%20Expert
7. Sonia Kashuk Powder Blending Brush: After years of buying way too expensive eye shadow and face brushes, I finally found this brand at Target.  This one works for any face application for me and they have every angle of blush and eye shadow brushes, too. These brushes are easy to clean and don't flatten like the expensive natural bristle ones. Vegan/Cruelty Free $20
https://www.target.com/p/sonia-kashuk-8482-professional-powder-blending-brush-no-137/-/A-76615600#lnk=sametab
8. Chanel Rouge Coco Lip gloss:  I have been wearing this moisturizing lip gloss rather than lipstick for at least 25 years. I vary the colors with the seasons or as the spirit moves me.  My current favorite is Icing #176.  I keep a tube in my purse as well as most coat pockets.  I love the texture, the amount of shine and most of all, it has zero "flavor."  Nothing like raspberry vanilla wafting up your nostrils as you are powering through the grocery store. I rarely walk out the door without this gloss and sunglasses. At Nordstrom, Bloomies, Neiman Marcus, Ulta. $32
https://www.bloomingdales.com/shop/product/chanel-rouge-coco-gloss-moisturizing-glossimer?ID=2525259&CategoryID=2921
9. Olaplex Hair Perfector No. 3:  I recently discovered this hair elixir that does way more than condition hair. It magically strengthens and, according to the directions, "bonds" hair strands so that frizz and split ends disappear.  With a weekly ten minute application, your hair will be silky smooth but not flat. Manageable even on the most humid days. Available at Amazon, Sephora, Hair salons $28
https://www.sephora.com/product/olaplex-hair-perfector-no-3-P428224
So, after you have gathered all these miraculous face and hair transforming products, what should you keep them in?  Voila!  Another favorite:
10. Nomi Network Make Up Pouches:  The Nomi Network is a wonderful organization whose mission is to end modern slavery and help the world's most vulnerable women avoid or survive sex trafficking.  They teach young women skills to empower them to be self-sufficient and less likely to fall prey to exploitation. Their motto says it all, "Buy her bag, not her body." The bags I love are made in Cambodia from recycled rice bags.  I have them in three sizes: toiletries, make up and medicine pouch.  All come in great vibrant colors. $20-25
https://shop.nominetwork.org/products/medium-accessory-pouch
Whether you are at home, on a business trip, or visiting some exotic land, before you drift off into dreamland, my last two favorites for me are a must.  Cotton jammies and a quiet room.
11. Marigot Collection Pajamas:  Not by design, I have saved my most expensive indulgence for last.  My daughter actually intoduced me to these as a Christmas gift. Ironically they were on one of Oprah's first favorite things list. I have been wearing them for over 15 years and still actually have my first pair. They are the perfect weight pima cotton printed in playful designs and classic stripes.  I prefer the Lorient prints.  They are great for travel–light yet cozy enough for year-round wear.  I buy a medium for the "borrowed a man's pj's" look. My grandsons picked out my last pair.  Yellow squid with black ink. $165
https://marigotcollection.com/collections/new-arrivals/products/lorient-block-print-long-pajama-set-new
12. Serene Evolution White Noise Machine:  I have bought and searched for the most compact but powerful travel-sized white noise machine and this one by far is the winner.  Barely larger than a face powder compact it includes a power plug but can be used with a USB port. This little bit of peaceful sleep is a keeper. Diverse choice of sounds. Use for home or travel. $20
https://www.amazon.com/gp/product/B095XF8RSZ/ref=ppx_yo_dt_b_search_asin_title?ie=UTF8&psc=1
And there you have it! Everything you need to freshen up, get where you are going and sleep well when you get there.