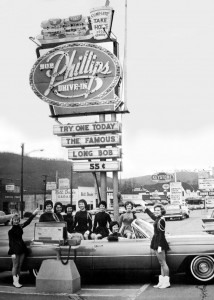 Just writing that title, it takes me  back to Bob Phillips Drive-In in Charleston, WV, replete with curb-side orders into the intercom perched on a pole beside lines of cars with roller skating waitresses.
Yep, right out of Happy Days.
On a  summer day in 1962, my brother at 17 was hanging at the curb with some friends and apparently, things got a little rowdy. No dope, no alcohol, just a few amped up teenagers honking their horns and feeling their oats.  The cops were called and when they got to my brother's car, they leaned in his window and asked for his driver's license.
Now at this point, being nine years his junior, I always picture him as a 60's classic: crew cut,  khaki pegged pants, oxford cloth starched shirt, skinny  black belt and white socks with Weejuns, shined to a mirror gloss.
My brother looked up at the policeman and when the officer repeated the request, he retorted, "Driver's license. Driver's license? Driver's license!"
Well the rest of the story is family history and local lore. My brother and his two buddies in the car were thrown in a paddy wagon and hauled into the station for his irreverence, along with a dozen or so others.  He called my parents and asked their advice as to what to tell the police and they basically said "the truth will set you free." Innocent and kind as my parents were, they were also naive. The other boys got daddy's attorney to set them free and my brother's name was the only disorderly youth listed in the Sunday paper. Even made the local news as he, on his own accord, was the only one of those arrested not to cover his face in a Justin Beiber-like faux cry for privacy.
Family uproar at the time, but now it makes me smile. Every time I hear the words "driver's license"  I think of my brother and that day. As complicated as it seemed when it happened, it calls up a simpler time in my mind. When kids were called rowdy for what they said, not who they hurt or what they did. And helicopter parents didn't always hover for a landing in each child's learning experience.
But on to the purpose of this post. As I mentioned last week, I recently had a birthday and with it, I needed to renew my driver's license. (Do I hear car horns, roller skates, The Shirelles?)
My letter in the mail from the Secretary of State noted I was required to take the written test as well as get a new picture. Both thoughts sent chills down my spine.
I had the good fortune for eight years to have kept the same license and the same decent picture.  Because of my good behavior, unlike my brother, I got a sticker on the back of my my driver's license for my pristine record that gave me an automatic renewal for a basic fee.
But  this letter stated  I must show up before my birthday and take the written exam.
I don't like exams because I have to get an A.  Tests bring out the ACT/SAT watch the clock/sweat bullets in me.  I become the three point shot at the buzzer, the defining cross-examination in the trial, the horse that pulls out in the final lap and takes the crown.  I have to get 100%. Or die.
My daughter told me to print out the Rules of the Road online, which I did,  all 90 some pages, in black and white. I studied.  I fretted. My hair fell out, I developed an ulcer.
So after three days of ruminating, I decided on a whim to breeze into the DMV and pick up the real Rules of the Road.  The computer sheets just weren't doing it for me. And while I was there I, again breezily, asked the guy at the desk to check and make sure if I did indeed have to take this exam. Hope springs eternal.
He took my license, glanced at it and said, I swear with a wink, "You shouldn't have to take the exam, unless of course , you have been bad." Wide-eyed I assured him I had not been, as he typed my social into the computer.
"You weren't bad four years ago in West Virginia?"  Busted, deflated, again full of test angst, I remembered a little speeding ticket I had paid for at the local station and supposedly gotten off my record.  Mom and Dad would have been so proud, I pled guilty as charged.
"Ah, go on and take the test," he said, "It's slow today.  Look around."
So I took a deep breath, paid the fee, picked up my test and sat down in a row of  school desks lined up for test-takers. Really?  Couldn't we have lounged on sectionals, munching popcorn, lazily choosing a, b or c? The pressure was killing me.
I have to say my days of study and quick perusal of the Rules of the Road as I stood in the short line for the cashier paid off.  I finished quickly, only missing one.  The picture taking was a blur of post-exam relief.
As my son in law said at dinner a few days later after he had also taken the test to reestablish himself as an Illinois resident, "Even a chimpanzee could pass that thing."
Averting his gaze, I peeled my banana and reached for the next limb.